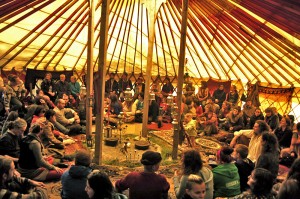 9-10 August 2014 – Brookfield Farm, Nenagh, Co. Tipperary
The "All Ireland Permaculture Gathering" is an annual camping weekend that each year takes place in a different location around the island of Ireland (Ireland and Northern Ireland). It's a non-profit, self-financing, self-organizing, drugs and alcohol free event, family friendly and all the people involved give their time and effort voluntarily.
It is about bringing people from different backgrounds, professions and experiences together to discuss, exchange and develop their common interest in environmental design, sustainable and ethical methods to building a better world.  This exchange is mainly facilitated through workshops in an "open space" scheme, without any formal agenda, where everybody is welcomed to participate.
Throughout the workshops during the "Gathering Set Up" (May-Aug) and "Gathering Weekend", it is possible to know more about the local community and to learn and exchange ideas about gardening, farming, productivity, agroforestry, biodiesel, building using alternatives and more reliable materials, sheep shearing, bread making, edible plant identification and processing, music, urban permaculture, etc. applying the permaculture principles.
First held in Co. Wicklow in 2011, this year the gathering will take place in an amazing and a very inspiring piece of land! Brookfield Farm is located on a large lakeshore, on the R493 road on the east shore of Lough Derg, Nenagh, Co. Tipperary, and is bounded by 2 streams, so the farm is named after the brooks and the fields. The farm is c.25 hectares, with a gentle slope down to the lakeshore, which gives lovely views across the entire land. At the top of the farm there is a 5 hectares woodland, planted with 18 year old oak, beech and ash, interspersed with older large beech and ash trees. The area is rich in biodiversity and wild habitats. It is a very stunning place!
Your support is important and very much appreciated for the Gathering to be another wonderful event. If there is any specific workshop or subject you would like to see at the Gathering or wish to contribute in some way, please feel free to contact us with your ideas.
So, do join us and call all your friends, family, neighbours and let's get together to do our part in making our island a better place to live!
More information about the workshop set ups, you can find at be the gathering website, Facebook & Twitter accounts.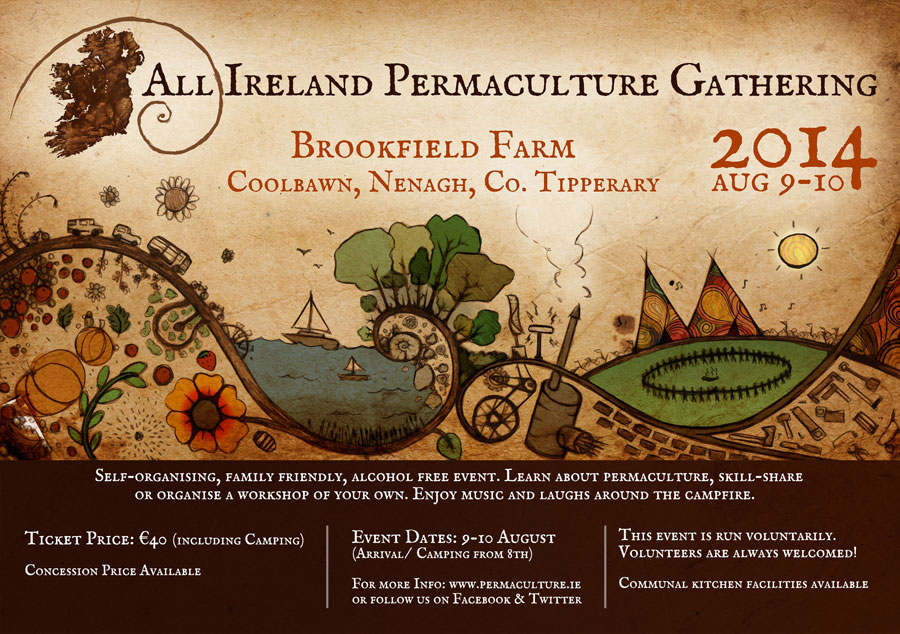 allirelandpermagathering@gmail.com