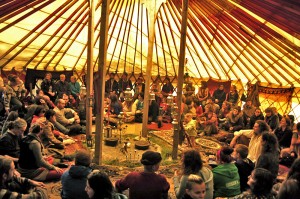 9-10 August 2014 – Brookfield Farm, Nenagh, Co. Tipperary
The "All Ireland Permaculture Gathering" is an annual camping weekend that each year takes place in a different location around the island of Ireland (Ireland and Northern Ireland). It's a non-profit, self-financing, self-organizing, drugs and alcohol free event, family friendly and all the people involved give their time and effort voluntarily.
It is about bringing people from different backgrounds, professions and experiences together to discuss, exchange and develop their common interest in environmental design, sustainable and ethical methods to building a better world.  This exchange is mainly facilitated through workshops in an "open space" scheme, without any formal agenda, where everybody is welcomed to participate.