On a study tour in Flanders last week, we came across this fantastic No Waste Cooking (From Potato Peel to Carrot Top) cookbook published by the fantastic KVLV woman's organisation in Belgium.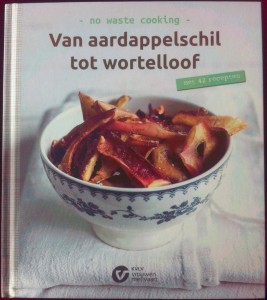 This cookbook has lots of idea for cooking with ingredients that may otherwise be destined for the compost bin – like carrot top pesto, broccoli stem guacamole and pizza with radish greens.
Okay, the book is in Flemish, so the translation below is mostly Google translate and our best guess, but give this a go next time you have some greens heading for the compost:
Pizza with Radish Greens
1 ready-to-eat pizza shell
leaves from 2 bunches of radishes
150 g of soft herb cheese
2 tablespoons pine nuts
olive oilpepper
Sauté the radish leaves for 2 minutes in olive oil and season with pepper. Spread the pizza shell with the herb cheese and scatter the radish leaves over. Distribute the pine nuts evenly. Bake the pizza according to the pizza shell instructions.
Variations:
Toast the pine nuts first.
Use any greens you have available (spinach, chard, kale).
Wilted greens work just as well as fresh.
This is also a good use of any leftover sautéed or roasted veg.